SOCIAL MEDIA REACH: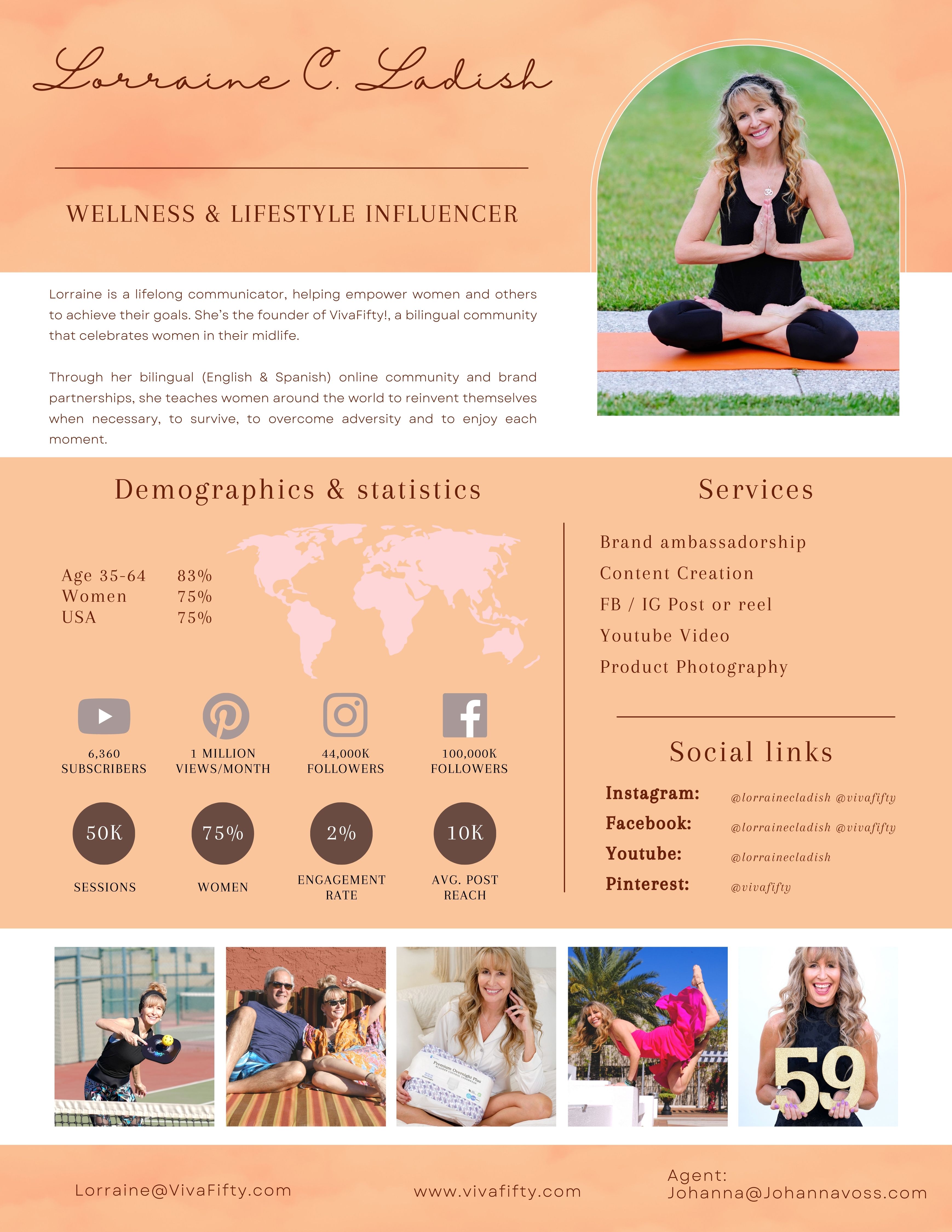 BEYOND THE NUMBERS: I enjoy engaging with my audience. I don't see them as followers or likes, but as women, friends—sisters who hail from all over the U.S., and Puerto Rico. They are mostly middle and upper-income women ages 30-60. They are moms, wives, and entrepreneurs. The majority are Latino and speak English, Spanish, or both.

They are interested in health, fitness, beauty, parenting, career, and relationship advice. They trust my opinions and reviews. We have online conversations, especially on Instagram, Facebook and YouTube.
PARTNERSHIPS AND COLLABORATIONS: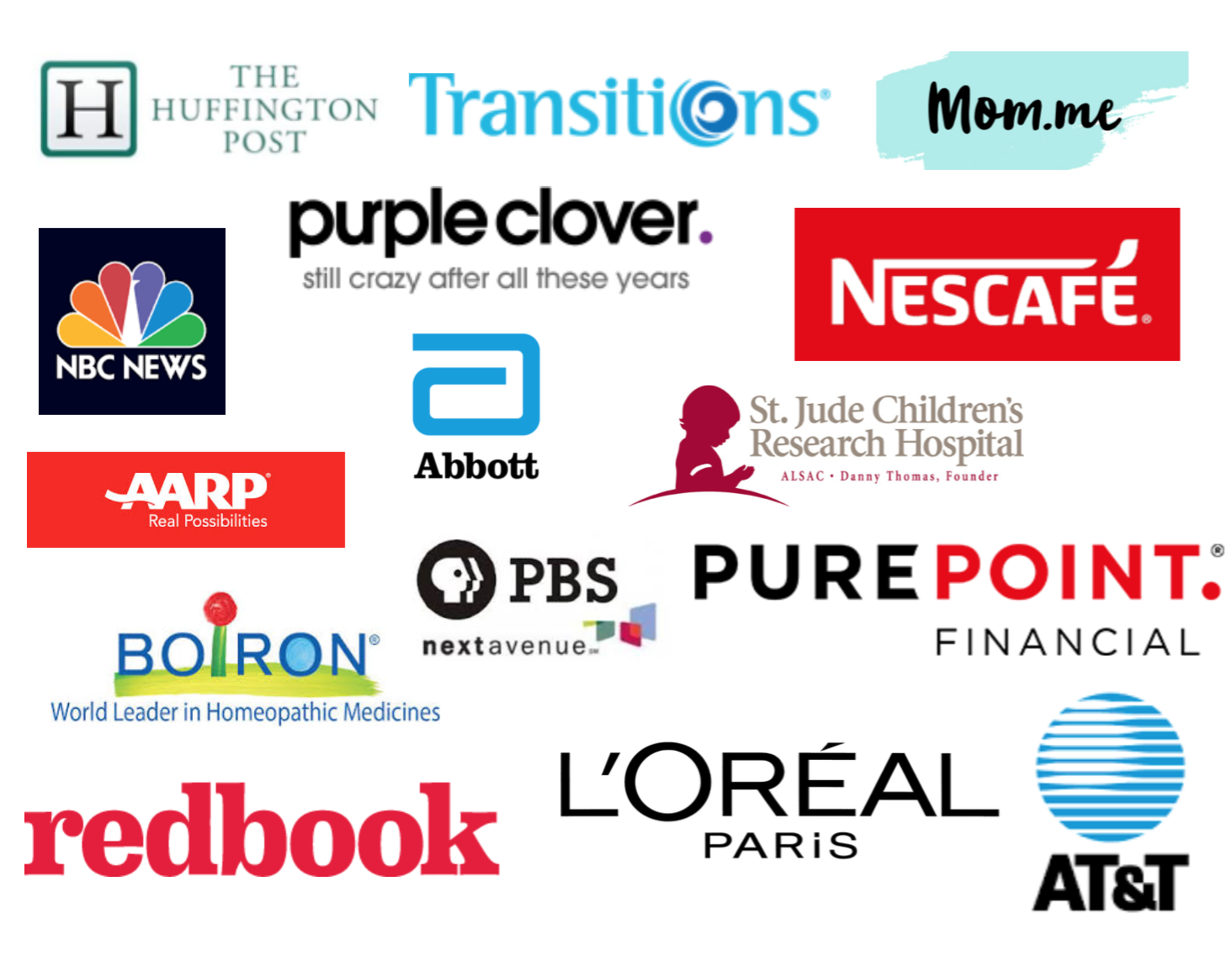 WHAT I DO: I consider myself a communicator and content creator. My books, my publication VivaFifty.com, this blog and all the social media platforms I engage on are about the same thing: inspiration and empowerment.
Every year I speak at a number of social media conferences, appear on TV programs and attend corporate meetings where I discuss the ins and outs of social media and offer tips and inspiration for those who are building their own digital business.
I share about subjects that are of value to women, Latinas, entrepreneurs and companies that need help with their social media presence.
My latest book on embracing age with grace and vibrancy was released by HarperCollins in 2017.
I am currently working on a book about turning one's flaws into assets.

SERVICES I OFFER:
Brand Ambassador / Spokesperson

Satellite Media Tours
Content Creation

Social Media Promotion

Empowerment & Social Media Workshops 

Yoga and Wellness Retreats

Speaking Engagements

Educational, Promotional & Fitness Videos
Book Author
All of the above in English and/or Spanish
For full media kit and rates, please write to [email protected]
RECENT PRESS
Influencer Marketing for Creators with Let's Talk Marketing Podcast
Managing Life as a Mother with Depression – PsychCentral
Starting Over in Midlife – More Beautiful Podcast
Breaking Age Barriers: Insights from Influencer, Yogi, and CEO Lorraine Ladish on Overcoming Ageism in Media and Marketing – The Art of Sway Podcast
Midlife Resilience : How Lorraine C. Ladish overcame financial loss and built a content empire
Turning challenges into opportunities with Lorraine C. Ladish – The Book Advantage podcast
No tengas miedo de cumplir 50 – Podcast con Ana Cruz de Rollos de Mujeres
She lost everything, reinvented herself and then this happened – KwaviTV
Feature of Lorraine C. Ladish in Voyage Denver
Viva Fifty and then some – Late Bloomer Living Podcast
A Latina Over 50's Journey from Author to Single and Broke to Successful Entrepreneur
Meet Lorraine C. Ladish | Co-Founder Viva Fifty Media LLC – Shoutout Colorado
Meet Lorraine C. Ladish – Canvas Rebel
7 Influencers de más de 50 que demuestran por qué ser yold es lo mejor de la vida – Gente Yold
Is There An Invisible String Between Religious Proselytizing And Influencing? I Asked Some Influencers – Buzzfeed
19 Questions with Lorraine C. Ladish – The Candidly
15 Instagram moms who inspire us to love our bodies- Mamás Latinas
On Aging and Body Image – Old Chicks Know Sh*t Podcast 
How One Woman Maintains Long, Beautiful Hair at 57 After Swearing Off Short Cuts in Her 30s – Woman´s World
Aging with Grace: Lorraine C. Ladish – Be Well Psychotherapy Podcast
Lorraine C. Ladish: Mildlife Reinvention Maven – Isidra Mencos
Meet AARP´s Get Moving Wherever You Are Fitness Experts
Overcoming Challenges to Create a Life You Love – Podcast with Seth Gillihan PhD.
10-minute yoga and pilates workouts with Lorraine C. Ladish in English and Spanish – AARP
How This Blogger Went From Hobby to Full-Time Career – Savvy Money Making
Skin Care Tips From 7 Influencers Over 50 – Real Self
These Latina Influencers Will Show You How to Live Your Best Life, Inside and Out – Oprah Mag
10 Inspiring Influencers You Should be Following – Oprah Magazine
Yoga is About Both Body and Mind – AARP
Lorraine C. Ladish Is A Writer, Entrepreneur, And Yogi…And She's Not Done Yet – It's Rosy
15 Latina Yogis Creating Community and Diversifying Yoga- Hip Latina
Lorraine C Ladish 'With age comes confidence, self-love and hindsight' – Lumity 
Influencer spotlight, IZEA: Lorraine C. Ladish
Lorraine C. Ladish | Ex-Welfare/Single Mom Reinvents her Life at 45
Lorraine C. Ladish: Fifty is The New Fifty – Swiss Life Group
If Not Now, When – Sarah Smeaton Coaching
PHOTOS FOR MEDIA USE:
Please credit photographers. Right-click on each to download in hi-res.