8 Basic steps to get started as a content creator












If I had a dollar for every time I get asked about how to make a living online, I´d be rich. The truth is I´m so wrapped up actually making a living online, that I can´t mentor every person who asks me about this. I will be teaching a social media workshop soon, and will host others in the future but, in the meantime, here are some very basic things you can start working on if you are thinking of launching a new venture online.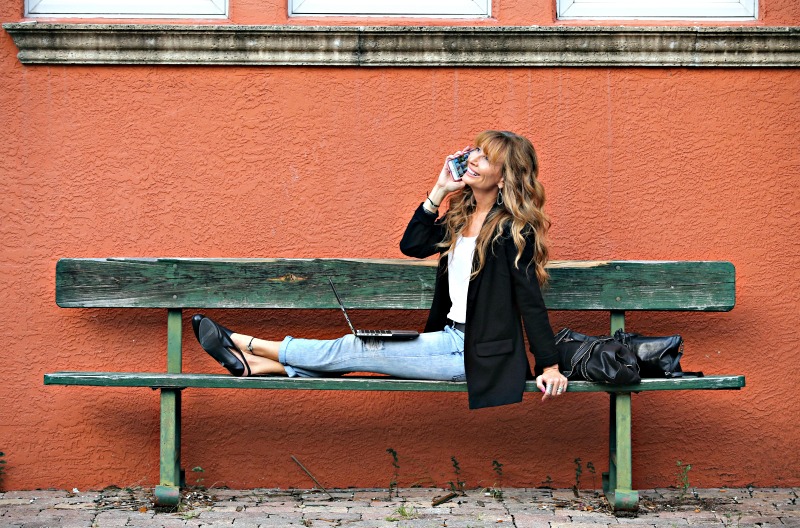 1.- Choose your subject matter.-
What is the purpose of your venture? If it´s only to make money, I would tell you that´s not a great reason. I do make a living, mind you, but it´s only because I absolutely love my subject matter: wellbeing in all its aspects, including the practice of yoga. I´m truly passionate about sharing my experience with improving mental, spiritual and physical health to positively impact other people´s lives. After having survived clinical depression, an eating disorder and being a single mom on welfare, to name a few, I know what it feels like to drown. I like to think of the content I put out there as a lifesaver. Not really, of course, but something that people can hold on to, to float ashore. So, what are YOU passionate about – to the point that it will carry you through the dry spells (especially when you´re starting out and when you plateau).
2.- Pick a name and secure your url and social media accounts.-
Picking a name for your digital business or blog is as hard as picking a name for your baby. However, don´t overthink it. Take pen and paper and jot down a few ideas, and then narrow them down. The name for my bilingual website Viva Fifty! came to me as I was out for a run. I had been thinking for days of a name that would convey the joy of being over 50, and also that it´s a bicultural website. I had thought of Latina Prime, Latina Plus and others, and then realized it needed to be something entirely different. A word in English and a word in Spanish. Once I hit on Viva Fifty! I went online to make sure the URL was available, which it was, and then I checked whether the name spelled the same way, @vivafifty, was available on the main social media platforms. It was! So I secured all of them and ran with it. I recently did the same with @theflawedyogini. Make sure the spelling of the name is the same across the board and if it can't be, come up with a different name or variation. Even if you don't use, say, Twitter, secure the handle anyway. Nobody else can take it if you do!

3.- Build your website.-
The website is dead, blah blah. Blogging is passé, blah, blah, blah. To that I respond, remember what happened to Vine? Or Google+? Or more recently, the day Facebook and Instagram were out of commission? Yeah. So do I. That's why, whether you're going to blog or not, you really do want to have a URL that is pointing to a website which, ultimately, is your calling card. If any social media platform shuts down, you always have your own piece of real estate online. I started out Viva Fifty! as a personal blog in early 2014, on wordpress.com, with free hosting. When I decided I would take it to the next level, then I went to wordpress.org and purchased a template for the new website and bought hosting on DreamHost. I now have a dedicated server that also hosts this website and soon, TheFlawedYogini.com. I do hire someone to handle that part but I know enough that I can update things here and there.

4.- Make sure your avatar and cover is the same for all social media platforms.-
Everything, from my online avatar to my business card, always has the same photo. I usually keep it for a year or two and then, when I'm ready to update it, I change it everywhere. Remember you're a brand, and branding has to be consistent. Whether it's a logo or a photo of you, people will only associate it with you if it's the same on all of your platforms. I've also realized that people engage more with a photo than with a logo. I still use a logo for Viva Fifty, but my own photo on my personal social media handle @lorrainecladish does much better. I also use a photo for @TheFlawedYogini. When I meet someone at a social media conference who's been following me online they may not associate my name with my face, but they certainly make the connection with my business card photo when I hand over my card.

5.- Start creating and sharing content before you think you are ready.-
Planning a website or digital business and everything associated with it, from the logo to the publication calendar, can become a rabbit hole. It's great to plan of course, but when I launched Viva Fifty as a blog, I had no logo. That came later and, by then, I already had plenty of content up on the page and across all social media channels that I could pay for the creation of the logo with money earned from the website! I didn't have a great camera to take photos until two years ago. I used a smartphone before that and, although now I can look back and see how far I've come, nobody questioned the quality of those first photos!
It's easy to think that you need to have a full-blown video studio before you launch your YouTube channel. I used to think that too until one day I realized that what I really needed to do was start shooting videos with whatever I had … again, my iPhone, which is exactly how I tape my vlog. I usually soft launch ventures and hone as I go. I only officially launched Viva Fifty! one year after I started it!

6.- Make a publishing calendar and be consistent.-
You will need a publishing calendar for your blog if you choose to have one, and then for each social media platform. To give you an idea, I will share a bit of mine: Viva Fifty! website publishes daily for the most part; on Twitter, we post at least eight times a day; on Facebook, three times a day, and on Instagram every other day or so; on Pinterest: eight times a day. I usually post a video on YouTube once a week, although YouTube is my weak point- it takes more effort than the other platforms. I also run four Facebook pages and three IG accounts and they all have different calendars.
But you don't have to do that. It's what I do.
The point is to be consistent. So, if you post on Instagram only once a week, then simply keep it up. That's all consistency means. When you stop posting consistently on one or more of your channels it becomes that much easier to skip it the next day and so on and so forth.
7.- Create a one-page media kit.-
What PRs, brands and organizations want from content creators changes at the drop of a hat. One year it could be a certain number of followers, and the next, a certain engagement rate or reach. For now, you can create a short media kit that explains your mission, who you are, what kind of content you create, who your followers are, and what they are interested in. You can be concerned about honing and improving it later on. Establish certain rates for yourself. When you're starting out it will pretty much be about trying to get paid any amount of money really, but as your following and reach grow, because you keep on posting compelling content, your rates will increase. Just to give you an example, my rates for a blog post with social media shares have increased by 10X and some since I launched in 2014.

8.- Keep on going no matter what.-
Now, here's where most people fail. They have it all in place to make it in the digital world, but when there is a dry spell, they give up. Or they get bored. Or they don't grow as fast as they expected. Or they burn out. Or any number of things. And then they complain that they aren't getting sponsors for their content … but when I check to see why, turns out their last post happened six months ago. Does that sound familiar? If after a couple of years your blog or your digital presence is making little to no money, and that really was your goal, then maybe it's time to reevaluate your brand. If you're growing and want to really step it up, then maybe speak to a business manager, like I did, and book a strategy session. That was my story two years with Johanna Voss, and I haven't looked back.

Trust me, it's not always the most talented or those with the biggest budget that make it as content creators. It's usually the ones who stick it out for the long run, and learn to adapt to the ever changing Internet and social media scene! I know this from experience.